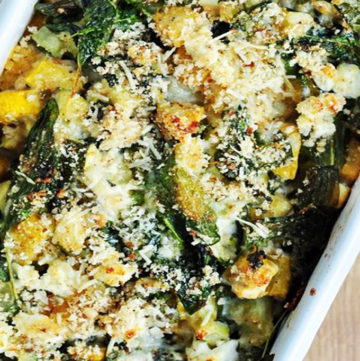 Baked Zucchini Spinach and Feta Casserole
This dish packs a hearty dose of vegetables, so healthy and flavour, made with parmesan and low-fat feta. So delicious, for these chance to get of the healthiest vegetables for you.
Preheat the oven to 400°F. Spray a 9×13" casserole-dish using non-stick spray and put aside.

In a large-skillet heat olive-oil. Once hot, add the zucchini, spinach and yellow-squash.

Then cook for 5minutes, till spinach is wilted and squash is soft. Drain off any excess liquid & put in a large mixing-bowl.

Add the remaining ingredients into mixing-bowl with the spinach mix. Blend well & spread the mixture in an even layer in the prepared casserole-dish.

Bake for 30-40minutes till golden-brown on top. Let cool slightly before serving.